When making your purchase, it is important to review a diamond's certification before going ahead and ordering. You need to be assured that the diamond has gone through an unbiased, authoritative and professional examination. We believe this is key to a successful diamond purchase so our diamonds come with certificates available to view online, before purchase.
Could You Tell Me More About Certificates?
An independent report created by a team of gemologists is referred to as a diamond certificate (which may also be called a diamond grading report, diamond dossier®, or diamond quality document). Certificates include an analysis of the diamond's dimensions, clarity, colour, polish, symmetry, and other characteristics. Certificates for many round diamonds will also include a cut grade on the report. These characteristics are determined using highly trained eyes, a microscope, a jeweller's loupe, and other tools.
All diamonds with a GIA certification come with the number inscribed on the diamond so you can authenticate it to what you have purchased.
View Certificates While Shopping:
You can view certificates while shopping for diamonds with Simply Diamonds. We offer GIA certified diamonds.
View more about GIA here; GIA Diamond Grading Report
View how to read a GIA Report here; GIA Diamond Dossier®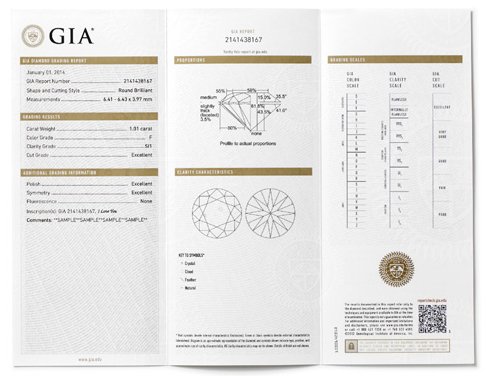 More About Cut:
How Do You Grade Diamond Cut?
We refer to cut grades provided by GIA whenever these are available.
Many diamonds graded by the GIA before January 1st, 2006 will not have a cut grading. If a cut grade is not provided with a certificate you are viewing, please contact us for more information on the diamond.
From the 1st January 2022 GIA has gone digital, meaning any newly graded diamonds from this date will only be issued a digital GIA certification that can be viewed from the GIA app. Find out more here
Ask An Expert